Covent Garden, A World Class Tourist Destination
There are many attractions that draw tourists and locals to Covent Garden in London, not least its top designer shops, street performers and the world famous Royal Opera House. Add that to a wide range of bars, restaurants and markets, and it's not hard to see why it is such a popular leisure destination.
The area wasn't always a cosmopolitan tourist attraction, as for much of it's life, Covent Garden was home to the largest fruit & vegetable market in the UK. At one stage, the market covered the entire piazza and extended into many nearby buildings. The market itself does still exist, it has just moved to 'New Covent Garden' in South London.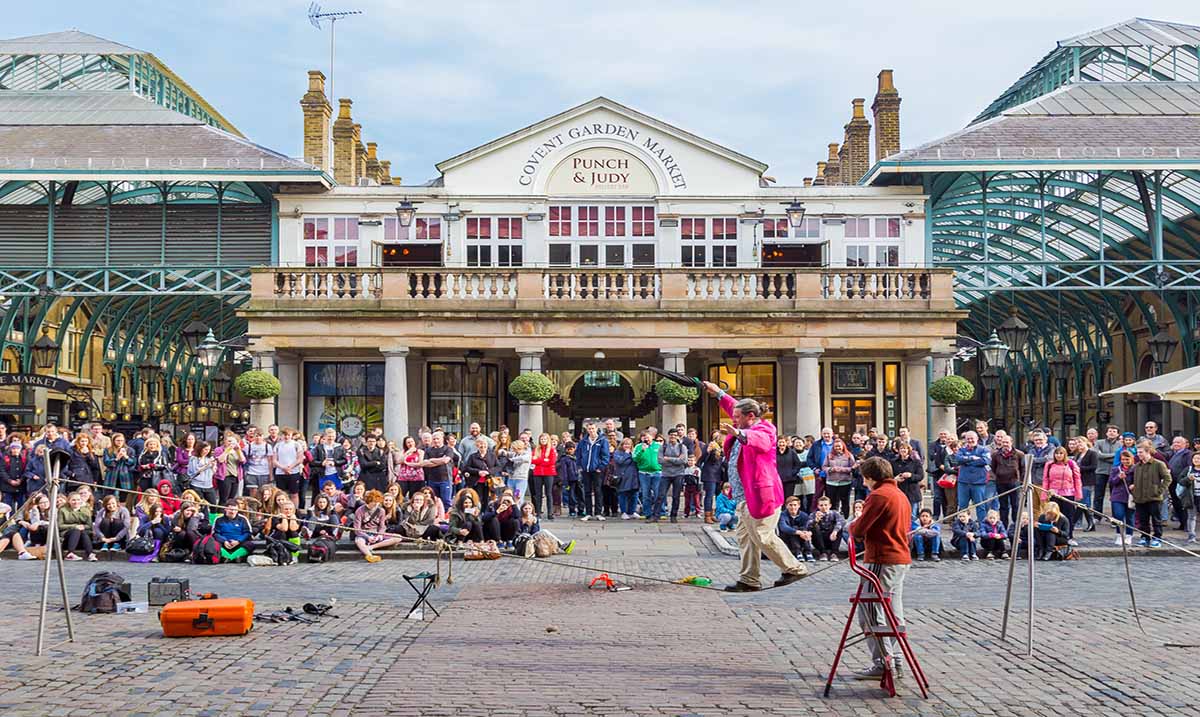 Looking for Unique, Top Class Entertainment?
Over the last 30 years, in the vacuum left by the market's departure, Covent Garden has become London's destination of choice for those seeking the very best in entertainment. The area, that regularly features buskers and amazingly skilful street performers from across the world, is just a stone's throw from London's West End, home of some of the most famous theatre productions.
Visit a West End box office today and you will find shows such as 'The Lion King', 'Motown' and the magical Wizard of Oz production 'Wicked'.
Street Performers
Covent Garden street performers are not the typical type you might find in other cities across the UK. The area is graced by highly skilled performers that have taken years to perfect the skills displayed in the shows they provide, performing them in major cities across Europe. Street performers are a well established element in Covent Garden's West Piazza and can attract 200 strong crowds and are as varied as they are wonderful. From musicians to contortionists and magicians, you'll find them all here.
Royal Opera House

If it's high class entertainment you're seeking, then look no further than the Royal Opera House, adjacent to the North Piazza. Dating back to 1732, it showcases the cream of ballet and operatic talent.
Searching for The Best in World Cuisine?

If you're hungry, then you're in the right place. Covent Garden Piazza and the surrounding streets offer tastes from all 4 corners of the globe. The wealth, quality and mind-boggling choice of cuisine caters for all tastes, with restaurants literally surrounding this popular area of London.
Confused by The Sheer Amount of Choice?
Most of us have hectic daily lives and don't have the time to trawl around the wide range of food and entertainment that the area has to offer.
Fortunately CoventGarden.com is here to take the legwork out of organising your leisure time. Our website allows you to book tables at restaurants online, tickets for major West End productions and rooms in hotels on the doorstep of this wonderfully colourful area of London.
Exclusive Deals
Our site directly accesses restaurant diaries, theatre seating and hotel room availability, which allows you to easily plan and book your stay in Covent Garden. It also enables you to take advantage of the many exclusive deals they have on offer. You'll even receive a confirmation from your chosen restaurant, theatre or hotel, offering peace of mind that there will be no hiccups when you arrive.
We are always adding new restaurants, pubs and bars to our recommended list, once we have visited and screened them for value, service and food quality. It pays to have local knowledge and we have that in abundance!
So, look no further. Let us use our knowledge and experience to ensure that you get to sample the very best that this unique part of the world has to offer.