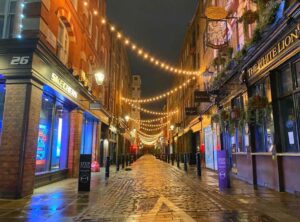 Covent Garden, located in the heart of London's West End, is a bustling hub of activity, day or night. 
With its vibrant energy, historic architecture, and entertainment, it's no surprise that Covent Garden is a popular destination for tourists and locals alike. 
However, while the area is well-known for its charming markets, street performers, and boutique shops during the day, the fun doesn't stop when the sun sets. 
Covent Garden comes alive with new energy at night, offering a variety of exciting things to do and see. 
From catching a show at the Royal Opera House to enjoy a drink in a rooftop bar, there are plenty of ways to make the most of your evenings in Covent Garden. 
So, whether you're a night owl or just looking for some after-dark entertainment, here are some of the best things to do in Covent Garden at night.
Watch a show at the Royal Opera House: The Royal Opera House is one of the most iconic landmarks in Covent Garden. It offers a diverse program of ballet and opera performances throughout the year.
Visit the street performers: Covent Garden is famous for its street performers, who perform various acts, from acrobatics to magic shows. They serve throughout the day and evening, providing plenty of entertainment for visitors.
Enjoy a drink in a rooftop bar: Several rooftop bars in Covent Garden offer stunning city views at night. Some popular ones include the Radio Rooftop Bar and the Henrietta Hotel Rooftop Bar.
Explore the nightlife: Covent Garden has a vibrant nightlife scene, with plenty of bars and nightclubs. Some popular ones include The Alchemist, The Escapologist, and The London Cocktail Club.
Visit the London Transport Museum: The London Transport Museum is open until late on Fridays and offers a fascinating insight into the history of London's public transport system.
Dine in one of the many restaurants: Covent Garden is home to a wide range of restaurants serving cuisine worldwide. You'll find plenty of options if you're in the mood for Italian, Japanese, or British food.
Shop at the markets: Covent Garden has several markets open late evening. The Apple Market, in particular, is known for its unique gifts, crafts, and artisanal products.
Take a night-time stroll: Covent Garden is a beautiful area to explore on foot, significantly when crowds have thinned out at night. You can stroll through the cobbled streets, admiring the historic architecture and soaking up the atmosphere.
Visit the pubs: Covent Garden is also home to several historic pubs worth visiting. The Lamb and Flag, for example, is a traditional pub that has been around since the 17th century and was once a popular haunt for Charles Dickens.
Attend a comedy show: The Comedy Store in Leicester Square is just a short walk from Covent Garden and offers nightly comedy shows featuring both up-and-coming and established comedians.
Watch a movie: The Odeon Covent Garden is a popular cinema that shows blockbusters and indie films. It's a great way to unwind after a busy day of exploring.
Take a ghost tour: Covent Garden has a rich history and is said to be haunted by several ghosts. You can take a ghost tour at night to learn more about the area's spooky past.
Overall, Covent Garden has much to offer at night, with plenty of entertainment, dining, and cultural experiences.