Covent Garden, one of London's most picturesque destinations, offers an abundance of opportunities for the perfect Instagram shot. From its floral installations, historic architecture, and seasonal attractions, this guide highlights the top photo spots to strike a pose and capture the best memories in Covent Garden.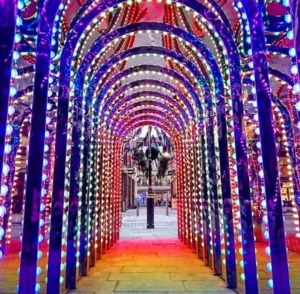 CG Infinity Chamber
Discover a hidden gem for the ultimate selfie opportunity in the city's heart, nestled between Long Acre and Floral Street.
The Covent Garden Infinity Chamber is a must-see destination for photography enthusiasts. So bring your best pose and snap away.
To avoid crowds, we recommend visiting during the early mornings or late evenings for the best photo opportunities. So take advantage of this one-of-a-kind photo moment!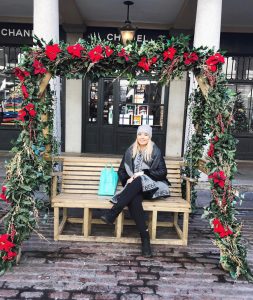 CG iconic swing seat
The Covent Garden swing seat on James Street is a must-visit photo spot during your trip to our neighbourhood.
Adorned with seasonal floral arrangements or dressed up by popular brands, the swing seat is a famous Covent Garden photo moment, perfect for your Instagram feed.
Expect a wait during peak times, so we recommend visiting during the early morning for a quieter experience. Take advantage of this iconic photo opportunity!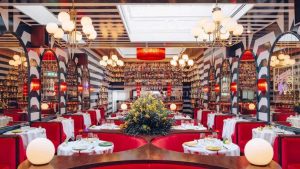 the most instagrammable restaurant
Ave Mario on Henrietta Street, voted as the 'most Instagrammable restaurant' by Covent Garden visitors, offers a wide range of photo opportunities to add colour, fun, and food inspiration to your feed.
From the striking striped interiors on the first floor to the multi-level design, even the bathrooms offer a playful neon surprise in the cubicles for an unexpected and glamorous selfie.
The Instagram-worthy content doesn't stop with decor, as their unique cocktail servings come in various shapes and sizes to delight and surprise.
To avoid disappointment, reserve a table in advance as it can get busy sometimes.Discover Ave Mario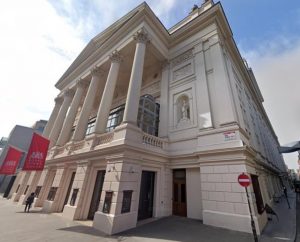 The Royal Opera House
The Royal Opera House, a classical architectural masterpiece, provides a breathtaking backdrop for aspiring ballerinas or sophisticated selfie enthusiasts.
Take in the spectacular aerial views from the top-floor balcony bar, overlooking the East Piazza and the striking Floral Hall arched window.
The space is free to enter and offers unique perspectives of the historic Covent Garden neighbourhood.Royal Opera House >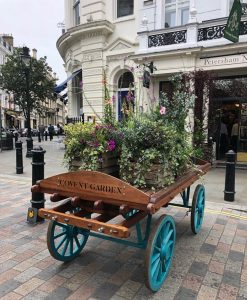 Flower Barrows
The Covent Garden flower barrows are a must-see photo spot for capturing the area's essence. Adorned with seasonal flowers and plants, these barrows add colour and beauty to the Piazzas and can be found at each of the four main entrances.
They offer a visual treat and serve as a habitat for local insects with a careful selection of flowers to attract bees and butterflies.
Also, keep an eye out for one of the barrows serving as a herb garden, open for residents to pick from.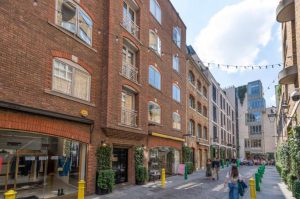 Floral Street
Floral Street, one of London's most picturesque streets, is the perfect backdrop for Instagram shots. With its twinkling lights and long perspectives, a selfie on Floral Street is a must-have.
The street is also home to several iconic fashion brands, including Paul Smith, GANNI, American Vintage, and more.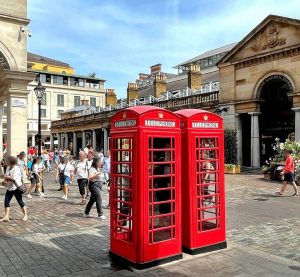 CG British Phone Booths
Capture a romantic moment like Justin and Hailey Bieber by taking a selfie in a James Street phone booth.
The iconic red booths are a London classic, and Covent Garden has plenty of them. So follow in their footsteps and snap a "phone booth smooch" selfie.