Afternoon Tea, a beloved tradition originated in London, has been enjoyed for almost two centuries. Covent Garden, home to the historic Covent Garden Piazza, offers some of the best locations to indulge in tea, sandwiches, cakes, and Champagne.
So whether you're looking to treat a loved one, spend time with family, or treat yourself, we've compiled a list of the best places to have Afternoon Tea in the West End of London.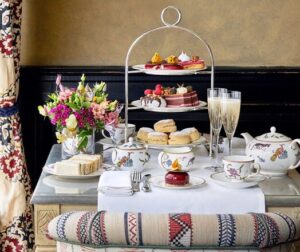 The Covent Garden Hotel – Mary Poppins Afternoon Tea
The Covent Garden Hotel, located in the heart of London's vibrant Covent Garden district, offers guests a unique and enchanting experience with their Mary Poppins Afternoon Tea.
Inspired by the beloved children's book and film, this whimsical tea service takes guests on a magical journey through the world of Mary Poppins.
The hotel's luxurious surroundings, impeccable service, and delectable treats make for an unforgettable afternoon tea experience.
So whether you're a fan of the classic tale or simply looking for a fun and unique way to indulge in traditional British tea service, The Covent Garden Hotel's Mary Poppins Afternoon Tea is a must-try. The Covent Garden Hotel >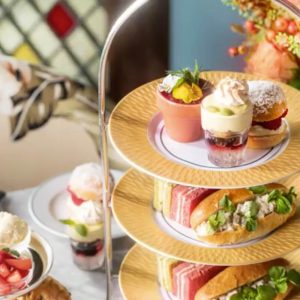 Ivy Market Grill
If you're meeting with parents or friends for an afternoon outing in Covent Garden, I highly recommend visiting the Ivy Market Grill for their Champagne Cream Tea.
This treat includes freshly baked fruit scones, clotted cream, strawberry preserve, a glass of Champagne, and a choice of teas, infusions or coffees.
For those who prefer savoury options, the 'All Day' menu offers tasty favourites such as The Prawn & Avocado Open Sandwich or the famous Ivy Shepard's Pie, made with slow-braised lamb and beef, red wine sauce, and cheddar potato mash. Ivy Market Grill >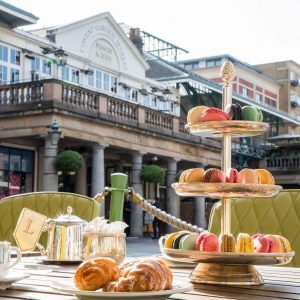 Ladurée
Ladurée's Afternoon Tea, or "L'heure Du Thé," is available daily in Covent Garden from 12 pm to 6 pm. The location offers picturesque views of Covent Garden's West Piazza and the opportunity to watch street performers outside St. Paul's Church, making it the perfect place to treat a loved one.
The iconic tea includes elegant finger sandwiches served on a silver tiered stand, mini viennoiseries, and beautiful cakes, such as the St Honoré rose framboise – a must-try with its layers of choux pastry, rose-petal cream, and raspberries.
The tea is also served with Ladurée's signature macarons and a glass (or two) of champagne. Ladurée >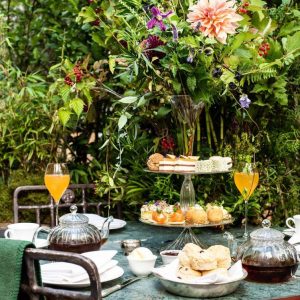 The Petersham
Petersham Nurseries, a well-known establishment in Richmond, has opened a new, upscale restaurant in the central London area of Covent Garden.
The restaurant's afternoon tea service is a highlight, featuring a unique, custom-made glass-blown multi-tiered platter crafted on the island of Murano.
The platter is adorned with wild and seasonal flowers, which diners can take home as a keepsake after indulging in delicious Smoked Trout Blinis, Lemon Meringue Tarts, Garden Herb Scones with Lobster and Créme Fraîche, and a selection of teas and house-made jams.
In addition, guests can enjoy their meal with a glass or bottle of Petersham Nurseries' signature sparkling wine. The Petersham >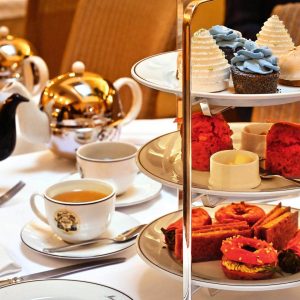 Mariage Frères
Mariage Frères, known for having the enormous tea wall in the world, offers an unparalleled experience for tea lovers.
The brand's first UK location features an elegant salon de thé on the first floor, with 100 seats in a beautiful gallery flooded with natural light and surrounded by an intricate heritage balustrade.
The menu is not to be missed, with a selection of handcrafted sandwiches, ornate cakes infused with tea, and an array of French pastries. The Afternoon Tea is a must-try and an essential part of experiencing Mariage Frères in the UK. Mariage Frères >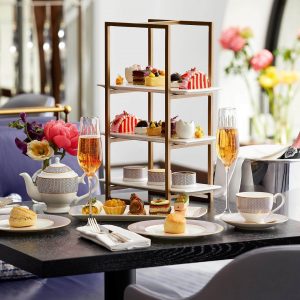 Charlie and the Chocolate Factory Afternoon Tea
Experience the nostalgia of your childhood with a visit to the Charlie and the Chocolate Factory Afternoon Tea at One Aldwych.
This family-friendly event brings the classic Roald Dahl tale to life through a delicious culinary journey.
Located in the heart of London's theatre district, diners can enjoy savoury treats such as "not-quite-as-it-seems" salmon, beetroot macaron, and juicy roast beef and horseradish.
The tea also includes fluffy cotton candy, a variety of cakes, sweets, mallows, and creams, all accompanied by choice of chocolate or lemon sherbet tea, juicing room mix, water pistol punch cocktails, or fizzy lifting Champagne.
It's perfect for special occasions or an indulgent afternoon spent immersing yourself in one of the most iconic stories ever told. Charlie and the Chocolate Factory Afternoon Tea >
Frenchie
Frenchie's bacon scones with maple syrup and Cornish clotted cream are a must-try for any scone lover. These scones are baked fresh daily and are a delicious alternative to traditional afternoon tea treats.
The combination of savoury bacon, sweet maple syrup, and rich and creamy Cornish clotted cream make for a truly satisfying taste experience. While they may not be a traditional afternoon tea staple, they are a delicious alternative that satisfies sweet and savoury cravings.
These scones are baked fresh daily and can be enjoyed with tea, coffee, or one of Frenchie's signature cocktails like Hazelnutini or Figatella.
These desserts are the perfect way to complete your dining experience. These desserts will surely delight your taste buds and leave you satisfied. Frenchie >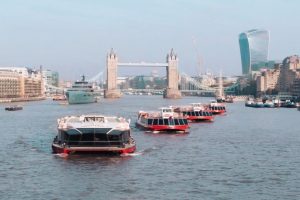 Afternoon Tea Cruise on the River Thames
Savour one of England's classic customs on a 1.5-hour Afternoon Tea River Thames cruise. Admire some of the city's most iconic buildings while indulging in a pot of tea accompanied by various delicate sandwiches and sweet treats. Afternoon Tea Cruise >
---
The Best Places to Enjoy Afternoon Tea in Covent Garden
What to Expect from Afternoon Tea in Covent Garden
When you book an afternoon tea experience in Covent Garden, you can expect a carefully curated menu featuring a variety of teas, savoury sandwiches, scones with clotted cream and jam, and a selection of cakes and pastries.
Many establishments also offer the option to upgrade to a champagne afternoon tea for a special occasion.
The setting is just as important as the menu.
You'll find that each of the establishments we've recommended offers a unique and memorable ambience.
From cosy and intimate cafes to grand and opulent hotel lounges, you will find an experience that suits your tastes.
Tips for Making the Most of Your Afternoon Tea Experience in Covent Garden
Make a reservation in advance – Afternoon tea is a popular tradition in London, so it's essential to make a reservation in advance to ensure availability.
Dress appropriately – Many establishments have a dress code for afternoon tea, so check ahead and dress accordingly.
Be aware of dietary restrictions – If you have any dietary restrictions, be sure to inform the staff ahead of time so that they can accommodate your needs.
Take your time and savour each bite – Afternoon tea is meant to be a leisurely experience, so take your time and enjoy each bite and sip.
Explore Covent Garden – After your tea, stroll around Covent Garden and explore the many shops, galleries, and street performers.