Covent Garden is the perfect destination for a romantic date night. From fancy dress to delicious food, we've rounded up the top romantic restaurants to make your occasion memorable. Check out our guide to the best restaurants for a perfect date night.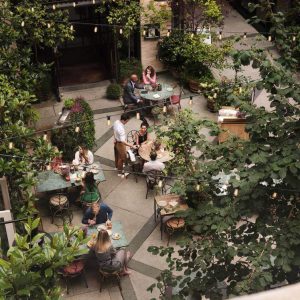 La Goccia
For a romantic pre-theatre meal or date night, I highly recommend La Goccia, brought by the team behind Petersham Nurseries.
Begin your romantic experience with a cocktail at the bar or a glass of wine from their family's estate and vineyards.
The open kitchen allows you to watch the chefs prepare your dishes or dine al fresco in the chilled Floral Courtyard.
La Goccia offers some of the best small plates in town, including signature dishes such as fried chicken, crispy squid, and Haye Farm beef tartare.
Seasonal specialities include oozy burrata with courgettes, fresh mint, chilli, and freshly made ravioli with butter and crispy sage. La Goccia >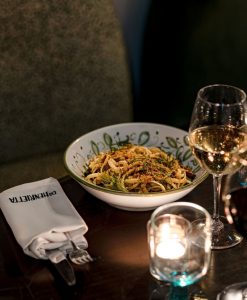 Da Henrietta
Da Henrietta offers customers a culinary tour of Italy, with the team from the Italian Supper Club leading the kitchen. It's the perfect spot for a romantic date night for those who appreciate authentic Italian cuisine.
Start with a classic Campari spritz or negroni at the bar, followed by appetizers such as freshly-baked focaccia with olive oil, burrata, peas, and broad beans. For the main course, try homemade pappardelle with crab and battering tomatoes or indulge in a selection of cured meats and aged cheeses.
Finally, make sure to save room for dessert. The chocolate mousse with Piedmont hazelnuts will remind you about a romantic trip to Italy or inspire you to plan your next one. Da Henrietta >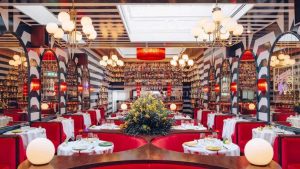 Ave Mario
Ave Mario, the latest and grandest Italian trattoria-style restaurant to open in Covent Garden, brought to you by the team behind the popular Gloria & Circolo Popolare, offers fun energy, beautifully presented plates, and freshly made pizza and pasta in the heart of Covent Garden.
The striking interiors of the restaurant and its team of Italian chefs were even featured in Kylie x Jessie Ware's latest disco-themed music video.
For a memorable and unique date night to impress your significant other, we recommend ordering playful (and slightly indulgent) cocktails, oversized plates of pasta, and over-the-top desserts. Be sure to book ahead to avoid disappointment. Ave Mario >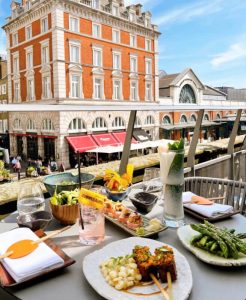 SUSHISAMBA
SUSHISAMBA is a high-energy restaurant that combines Japanese and Latin American flavours in the heart of London.
For a perfect date night, start with a drink at the bar and take in the 'living ceiling' of lush greenery. Signature dishes include wagyu gyoza, lobster taquitos, and tiger prawn rolls.
The miso black cod and classic sushi selection are also must-tries. For dessert, make sure to save room for the Yuzu & Coconut Tart, featuring yuzu curd, coconut ganache, and coconut butter.
Proceeds from this dish will be donated to SUSHISAMBA's charity partner, Crisis UK. SUSHISAMBA >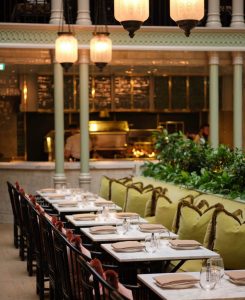 The NoMad Restaurant
The NoMad hotel, known for its iconic status, moved to London's Covent Garden and quickly became a sought-after destination.
The hotel's restaurant, located in a glass conservatory filled with natural light, serves breakfast, lunch, dinner, and weekend brunch. In the evening, the atmosphere shifts to a more intimate setting, showcasing its moody and sensual character.
Unfortunately, due to high demand, getting a table at the restaurant may take a lot of work.
If you're looking for a luxurious meal or a romantic date night, begin with a martini at the bar, followed by the NoMad Plateau: Grand Fruit de Mer, a seafood platter featuring the Grand Fruit de Mer is a seafood platter that includes fresh oysters, mussels, scallops, crab, and flavorful dressings.
Another must-try dish is the house-made Tagliatelle with Lobster, lemon, and uni Butter. Finally, try the Roast Chicken for two with black truffle for a signature main course. The NoMad Restaurant >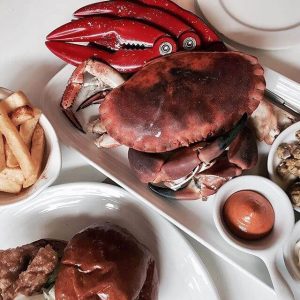 The Oystermen
My favourite spot for a romantic date or pre-theatre dinner is the Oystermen Bar & Kitchen. You can select from daily specials and a variety of oysters at the counter.
Their fried whitebait and tempura oysters are also highly recommended. The Dorset brown crab and bay leaf chips are a must-try. And, of course, a glass (or a few) of sparkling wine pairs perfectly with the meal.The Oystermen >