People have different preferences for how they like their eggs in the morning. Some want them with avocado, others prefer them baked with chorizo, and others like them topped with beetroot-cured smoked salmon.
With so many options available, we've partnered with Clerkenwell Boy to compile a list of our favourite places for brunch in London's West End. Many cafes and restaurants in Covent Garden have outdoor seating, making it the ideal spot for a leisurely al fresco brunch, weather permitting.
So whether you're looking for eggs, granola, pancakes or bottomless brunch, Covent Garden has it all.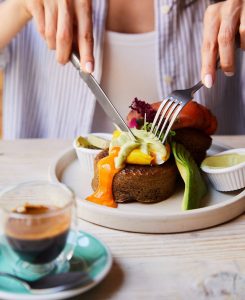 Avobar
With over 13 million Instagram posts tagged with #Avocado and over 2 million with #AvocadoToast, it's no surprise that Avobar (with its 24,000 followers) is so famous for breakfast and brunch.
The restaurant serves delicious, Instagram-worthy dishes that are also vegetarian and vegan-friendly. Then, there's the classic avocado toast with a runny fried egg for early birds.
Still, the brunch menu also features beautiful poke bowls, grilled miso salmon with diced avocado, and the Instagram-famous Avo Bun Burger.
For those who prefer a sweeter start to the day, it's a tough decision between the Peanut Smoothie or the Acai Bowl. Avobar >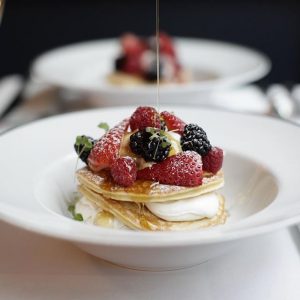 Ivy Market Grill
The Ivy Market Grill, the smaller sibling of the famous The Ivy restaurant, specializes in classic British fare with an art deco atmosphere.
For breakfast or brunch, try The Ivy Full English, which includes smoked streaky bacon, Cumberland herbed sausages, fried hen's eggs, potato rösti, black pudding, roast plum tomatoes, grilled flat mushrooms, and baked beans.
For a sweet option, try the Hot Buttermilk Pancakes, served with strawberries, raspberries, blackberries, Greek yoghurt, lemon balm, and warm strawberry sauce. Ivy Market Grill >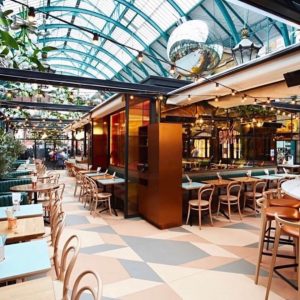 Buns and Buns
For a great breakfast spot, visit Buns & Buns in Covent Garden for crispy fried eggs served on toasted sourdough with mushrooms and truffles.
The three cheese omelette and classic eggs benny are also great options to start your day. Brunch enthusiasts will also enjoy the fluffy white bao buns here.
As you walk into the restaurant, you will see towers of bamboo steamers filled with soft white buns served hot with delicious options such as the shiitake mushroom bun and bourbon pork belly bun.
The brioche rolls are also trendy, including options such as the Lobster Roll, Chicken Curry and Tenderloin Black Pepper Beef. Buns and Buns >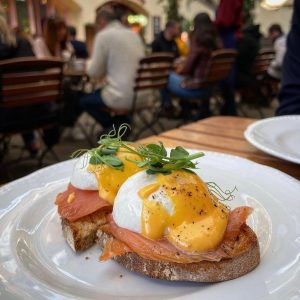 Chez Antoinette
Chez Antoinette adds a touch of French elegance to the heart of Covent Garden. Begin your day in style with breakfast.
We recommend the brioche French toast and the signature Croque Madame, made with ham, cheese, and confit onion, sandwiched inside toasted sourdough, and topped with an egg.
The baked avocado and eggs on toast with smoked salmon and hollandaise are also popular choices.
Pair it with tea, coffee, or fresh orange juice while enjoying al fresco dining in the iconic Covent Garden Market Building. Chez Antoinette >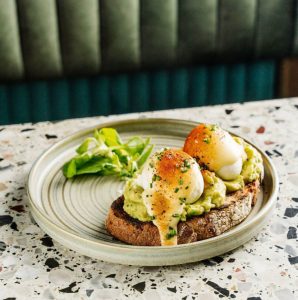 Lilly's Cafe
Located in the terracotta-coloured conservatory of 3 Henrietta Street, this spot is perfect for lunch, brunch, cake, drinks, and even late-night treats.
Signature breakfast and brunch dishes include the Sticky Toffee Banana Toast and the Bacon Brioche Bun. The Spiced Baked Eggs and the Cheddar and Mushroom Baked Eggs are also very popular.
The café also has a sun terrace overlooking the piazza where you can enjoy the menu al fresco while sipping on cocktails and people-watching. Lilly's Cafe >
FLORAL by Lima
Floral by LIMA's brunch menu, based on traditional flavours and adapted to the local palate, stays true to the healthy aspects of Peruvian cuisine.
The Weekend Brunch starts at £29 for six courses or £44 for bottomless Prosecco, beer, or Pisco Mary.
The 6-dish sharing menu includes the Rainbow Quinoa Salad with avocado and citrus dressing, Sea Bream Ceviche with ginger tiger's milk, cassava, and Andean corn, Salmon Hot Ceviche with Langoustine broth, corn tostada, Beef Saltadito Turnips and more. FLORAL by Lima >
Ladurée
Ladurée's weekend brunch, served from 10 am until 3 pm, is priced at £38.50 and includes fresh juice, a hot drink, a silver stand filled with croissants, jams, macarons, and scrambled eggs on brioche toast, served with options like avocado, smoked salmon, or turkey pastrami.
For those looking for a quick breakfast, Ladurée offers breakfast all week long from 8 am until 11.30 am, with menu options like Truffle Omelette and Soft Boiled Eggs Benedict.
Additionally, Ladurée boasts the best terrace in town, so head up and take in the view while you enjoy your meal. Ladurée >
RedFarm
Every Sunday, RedFarm hosts their renowned Sunday Brunch, which includes eight signature dishes and champagne.
Dishes on the menu include Prawn & Black Cod Skewers, Cheeseburger Spring Rolls, Pork & Crab Soup Dumplings, and the Instagram-famous Pac Man Shrimp Dumplings.
The brunch consists of 8 RedFarm signature dishes and unlimited champagne, wine, and beer for £68 per person or £48 per person without alcohol.
As a bonus, guests can roll a lucky "8" with two dice to win a prize on their next visit.  RedFarm >
ABUELO
Abuelo is a coffee house that blends Australian and South American flavours and serves light, fresh meals made with quality ingredients and a variety of single-origin speciality coffees.
Enjoy great coffee and a welcoming atmosphere, and if you're lucky, cuddle with the resident dog, Annie! With an all-day dining approach, you can brunch all day to your heart's content!
Try the poached eggs paired with labneh and avocado salsa, paprika dulce, or the honey-whipped mascarpone with figs, which you might have seen on Instagram and crushed pistachios on toast. ABUELO >
Balthazar
Balthazar, a French-styled Covent Garden brasserie, brings a taste of downtown New York to London with their renowned brunch menu.
Their Le Petit Dejeuner is served weekdays from 7:30 am until 11 am and features a variety of pastries, tartines, and jams, as well as eggs, New York-style pancakes, and almond waffles.
For those in a hurry, Petit Brunch is served on weekends from 9 am until 10 am, where you can choose from options like Le Panier, a basket of freshly baked bread and mini pastries for £10, or heartier options like Eggs Royale and Balthazar's Full English Breakfast.
Finally, for those who want to make their brunch last as long as possible, Balthazar's Brunch menu is available on weekends from 10 am until 4 pm, featuring Balthazar's unique twists on classic brunch dishes, such as the Scrambled Eggs and Cornish Crab or Balthazar Steak and Egg. Balthazar >