Are you searching for the ideal place to relish a delicious meal before catching a show?
Look no further as we present our latest Pre-Theatre Dining in Covent Garden guide. Located in the heart of Theatreland, this guide offers some of the best dining options to satiate your taste buds.
So whether you wish to grab a bite before or enjoy a refreshing drink after the show, Covent Garden has covered you!
Balthazar
Indulge in a touch of Parisian elegance at Balthazar – a stunning brasserie in Covent Garden's heart, offering classic French cuisine.
This charming eatery is the perfect setting for a romantic dinner date, power business lunch, or family gathering.
The extensive à-la-carte menu features traditional bistro favourites, such as moules frites, steak tartare, and garlicky escargots.
Looking for a Pre-Theatre dining option? Balthazar has got you covered with a menu that caters to everyone's tastes.
Enjoy your dining experience with a glass of wine and a freshly baked French baguette with a generous portion of butter.
We highly recommend the delectable twice-baked cheese souffle as a starter, followed by the classic cassoulet or salmon with creamy mash as your main course.
Finally, save room for the heavenly creme brulee or chocolate fondant to end your meal on a high note.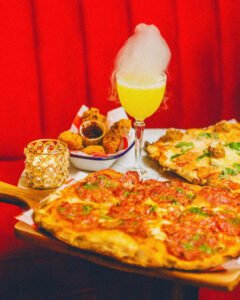 Mrs Riot
Introducing Mrs Riot, the newest addition to Henrietta Street, paying homage to the trailblazing feminist Kitty Clive, who revolutionized London's cultural scene in the 1700s.
This unique restaurant and cocktail bar is an experience featuring awe-inspiring live entertainment every day of the week.
Designed by Hollywood film designer Sonja Klaus, Mrs Riot is a feast for the eyes and the soul.
Indulge in their signature cocktails or curated wine selection, and you'll be sure to leave craving for more.
Suppose you're looking for a Pre-Theatre dining option.
In that case, we highly recommend trying their signature Pinsa Romana – a delicious pizza with a light, crispy base and mouth-watering toppings.
For just £25, you can savour a pre-theatre pizza and a cocktail. But, of course, you must also try their fresh burrata with truffle oil, pea, mozzarella arancini balls, and the creamy truffle mac & cheese that is to die for!
→ Mrs Riot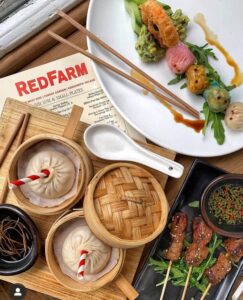 RedFarm
RedFarm is a game-changer in the London dining scene, offering innovative Chinese cuisine and supercharged dim sum dishes.
Their menu boasts signature creations such as Pac Man Dumplings, Giant Soup Dumplings, Hamburger Spring Rolls, and much more!
For those seeking a Pre-Theatre dining option, RedFarm has got you covered with a wide range of starters to choose from, including Crispy Kale Cutlets, BBQ Chicken Skewers, Spicy Crispy Beef, Vegetable Dumplings, and Chicken & Sweetcorn Soup.
As for the main course, indulge in the delicious BBQ Scotch Prime Bavette Fried Rice, Chili Chicken Served with Jasmine Rice, Grilled Pork Belly Served with Wide Rice Noodles, or Vietnamese Vermicelli Noodles served with Grilled Prawns.
And remember to save room for the heavenly Custard Lava Bao!
RedFarm's innovative approach to Chinese cuisine is guaranteed to tantalize your taste buds and leave you wanting more.
→ RedFarm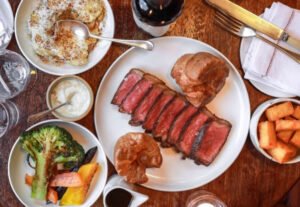 Cora Pearl
Looking for a touch of decadence before your theatre show? Look no further than Cora Pearl, the younger sister restaurant to the celebrity favourite Kitty Fisher's.
Nestled in a historic and chic Covent Garden townhouse, Cora Pearl serves up hearty yet refined comfort food and handcrafted cocktails to transport you to a world of elegance.
Their ever-changing Pre-Theatre menu features signature dishes such as Devilled Eggs, Cod's Roe Crumpet, the insta-famous "Ham & Cheese Toastie," and NEXT LEVEL Potato Chips, alongside seasonal specials.
And for dessert, indulge in the irresistible fruit crumble with ice cream!
Cora Pearl's atmosphere is perfect for a sophisticated night out, and their delectable menu will have you coming back for more.
SUSHISAMBA
If you're looking to celebrate the cuisine of Japan, Brazil, and Peru, look no further than SUSHISAMBA in the heart of Covent Garden.
With stunning interiors and a lively open kitchen, SUSHISAMBA is the perfect spot for pre-theatre cocktails and a delicious meal.
Their pre-theatre menu offers a range of mouth-watering starters such as Vegetable Taquitos, Ribeye Anticuchos, or Tuna Ceviche.
Mains include Shrimp Tempura sushi rolls, Salmon & Asparagus rolls, Veggie rolls, Robata Grilled Salmon or Poussin, or Mushroom Tobanyaki.
And make sure you save room for the delectable Yuzu & Coconut Tart or Assorted Mochi!
SUSHISAMBA's blend of Japanese, Brazilian, and Peruvian flavours is to be noticed.
Their buzzy atmosphere will prepare you for a night out at the theatre.
More Pre-Theatre Dining: New Restaurants and Classics to Try Before Your Show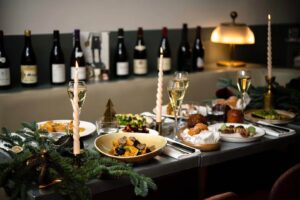 Frenchie
Fine dining at its best! Located on Henrietta Street in Covent Garden, this award-winning restaurant boasts a carefully crafted set menu by acclaimed chef Gregory Marchand.
Known for his imaginative and seasonal cuisine, Marchand's menu offers a delightful array of dishes that will please even the most discerning palates.
The menu is created using the finest ingredients sourced from top-notch suppliers, guaranteeing a truly unforgettable dining experience. Each dish is beautifully presented and bursting with flavour from the first bite to the last.
The restaurant's elegant and intimate atmosphere is perfect for pre-theatre dining.
You can enjoy a sophisticated and relaxed meal before catching a show.
So, why not indulge in a fine dining experience and savour the delicious creations of this culinary mastermind?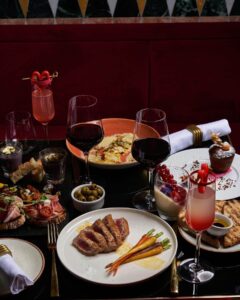 VyTA
Looking for an exceptional pre-theatre dining experience in Covent Garden?
Look no further than the Italian-inspired cuisine of our head chef, Filippo Bellani.Located in the heart of Covent Garden, our restaurant boasts stunning views of the Piazza.
It is the perfect place to enjoy a delicious meal before heading to the theatre.Our menu features a carefully curated selection of Italian-inspired dishes, each crafted with the utmost care and attention to detail.
Whether you're in the mood for a classic Italian pasta dish or a modern twist on traditional Italian flavours, our set menu has something for everyone.
From fresh and flavorful salads to perfectly cooked seafood and succulent meats, our dishes will surely delight your taste buds and satisfy you.
And, of course, an Italian-inspired meal would only be complete with a selection of decadent desserts.So our menu features an array of sweet treats, from classic tiramisu to rich and creamy panna cotta.
So why join us for a pre-theatre dinner and experience the very best of Italian cuisine in the heart of Covent Garden?
With our impeccable service, stunning views, and mouth-watering dishes, we're confident you won't be disappointed.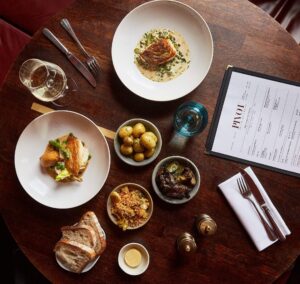 Pivot
Indulge in a culinary journey at Pivot, the ultimate destination for pre-theatre dining in the heart of London.
Head chef Mark Greenaway's passion for British cuisine is evident in every dish on the menu, from the Chicken and Hazelnut Terrine to the Wild Mushroom on Toast.
Experience the perfect balance of flavours and textures with their carefully curated Pre-Theatre Menu, which offers a selection of delectable dishes to tantalize your taste buds.
So whether you're in the mood for something light, refreshing, or rich and hearty, Pivot has something to suit all tastes.
As you step into Pivot, you'll be greeted by a warm and inviting ambience that will put you at ease.
The restaurant's chic decor and stylish furnishings create a relaxing atmosphere for enjoying a pre-theatre meal with family and friends.
So, whether you're looking for a romantic evening out, a catch-up with friends, or a quick bite before the show, Pivot has got you covered.
So book your table today and get ready to indulge in the finest British cuisine the city offers.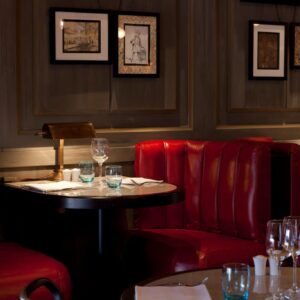 Tuttons
Located in the heart of Covent Garden, Tuttons offers an exquisite pre-theatre dining experience with its set menu, featuring a delectable selection of dishes that cater to different palates.
Indulge in a two-course meal for only £19.95 or a three-course dinner for just £21.95 and enjoy an array of tempting options, including succulent Roasted Salmon Fillet, flavoursome Mushroom Risotto and sumptuous Sticky Toffee Pudding.
With a prime location that overlooks the Piazza, Tuttons provides a perfect setting to savour a delicious meal before heading off to catch a show.