If you're participating in 'Veganuary' or just searching for the best vegan options in London, Covent Garden has a variety of delicious plant-based restaurants and dishes to choose from.
Our guide to vegan dining in the West End highlights the top spots for a 3-course indulgent meal, flavourful Middle Eastern cuisine, or a carb-heavy vegan pizza.
Discover the best vegan restaurants in the heart of London and plan your next satisfying meal.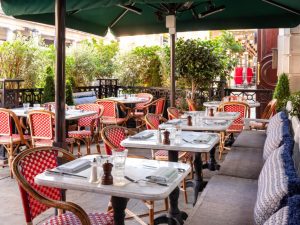 Ivy Market Grill
Experience a variety of exciting and delicious vegan options at The Ivy Market Grill, located in the heart of Covent Garden.
The Ivy Market Grill offers a terraced restaurant, a beautiful bar, elegant interiors and two private dining rooms.
The private dining rooms are decorated with photographs of stars of stage and screen, fitting for its location in the heart of London's theatre district.
Known for its sophisticated take on British and Mediterranean classics, vegan options include the creamy Sweet Potato Keralan Curry, Vegan Burger with mushrooms, vegan cheese, and irresistible chips. Additionally, there's an Asian-inspired salad with Grilled Broccoli, Fresh Snow Peas, Pickled Radishes, Chilli, and Roasted Cashews. Ivy Market Grill >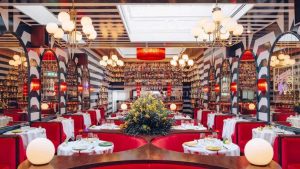 Ave Mario
Ave Mario is the ideal location for a date night with your significant other, lunch with your best friend or a family meal. They are open for lunch, dinner, and weekend brunch.They are known for their Instagram-worthy interiors and TikTok-worthy desserts.
However, they also offer delicious vegan options, such as "GOURD'S GIFT TO PIZZA" – a fluffy Neapolitan-style pizza topped with pumpkin cream, winter radicchio, vegan cheese, balsamic glaze and toasted walnuts.
Also, save room for "The Passion of Cheesecake", made with creamy vegan spread, a biscoff base, and drizzled in passionfruit coulis. Ave Mario >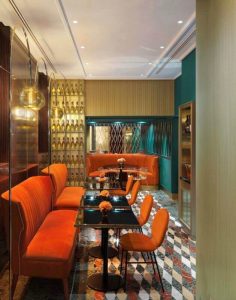 VyTA
VyTA offers Italian-inspired vegan dishes in the heart of Covent Garden. Some must-try words include Red Beetroot Hummus with Pomegranate and Homemade Focaccia, a Kale salad with Red Cabbage, Carrots, Pomegranate Seeds, Crispy Onion and Vinaigrette and Red Cabbage and Potato Soup served with Pistachio and Homemade Focaccia. VyTA >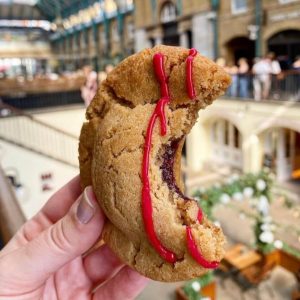 Floozies Cookies
Floozie Cookies is a passion project by pastry chef Kimberly Lin who has worked at prestigious establishments such as Claridge's, The Savoy, and Dominique Ansel Bakery.
The bakery serves vegan stuffed cookies in five flavours and a rotating sixth option. We highly recommend the Triple Chocolate and Oozy Chocolate Chunk Cookies and the seasonal special, the Toffee Apple Cookie.
They also offer a variety of plant-based milkshakes and hot chocolates, available at the bakery or for delivery. Floozie Cookies >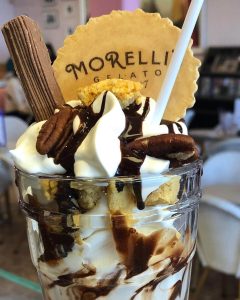 Morelli's Gelato
Morelli's has made their ice cream fresh every morning in each store for over a century. The tradition began in Scotland when Giuseppe and his son Mario arrived from Southern Italy.
They set out on their bicycles every morning to sell their ice cream, returning home when every scoop was sold. In 1932, Mario opened the first Morelli's Gelato in England on the Broadstairs seafront in Kent.
In 2023, Morelli's can be found in the market building of Covent Garden. They offer a wide variety of vegan options such as dark and rich Venezuelan Chocolate, silky smooth Hazelnut Gelato (made with roasted Hazelnuts and oat milk), creamy and tart Raspberry Ripple, and various sorbets like lemon, mango and more. Morelli's Gelato >