Experience the romance of London with a Valentine's weekend filled with activities in Covent Garden.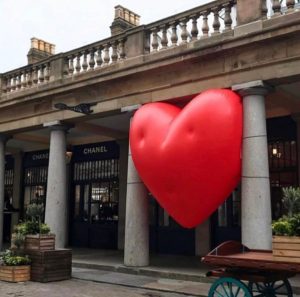 Covent Garden, a beloved neighborhood in London, is the ideal spot for romantic dates, weekend getaways, or outings with friends.
From February 10th, enjoy special activities such as intimate dining experiences, unique gifts, exclusive menus, and more. Create lasting memories, day and night.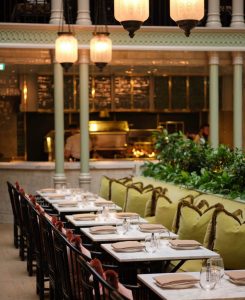 The ultimate dining guide for romantic couples
Top spots for a romantic evening
Navigating the abundance of romantic restaurant options in London can be overwhelming, but we've curated a list of the best date night spots in the West End.
Perfect for Valentine's Day, special occasions, or just a romantic night out. Discover Peruvian Pisco bars, sushi to share, stylish staycations, and even the 'most romantic restaurant in London' all in Covent Garden. From a first date to a proposal, we've got you covered.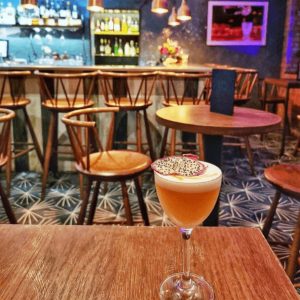 First dates can be nerve-wracking, so why not start with a cocktail to ease the tension?
FLORAL By Lima's Lost Alpaca Bar offers delicious Pisco-based cocktails and is an excellent spot for a first date.
Impress your date with your knowledge of the fantastic and trendy Peruvian bar, and enjoy the intimate lighting, low-level background tunes, and delicious cocktails.
If you get hungry, order light bar snacks such as yuca chips with Peruvian salsa, beef empanadas, or chicken anticucho.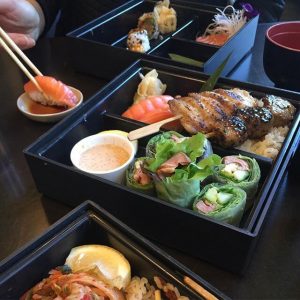 Congratulations on securing a third date!
While you've already hit it off, there's still more to learn about each other. Sticks 'n' Sushi's Henrietta Street menu, heavily focused on sharing, offers the perfect opportunity to get to know each other and discover each other's food preferences.
Try the Danish-Japanese sushi restaurant's 'Table for 2 Sushi' for the ultimate sharing experience. Be adventurous and ask your waiter to keep serving you new dishes until you say stop, or try the Black Cod as a safe option.
After your meal, head to the bar at the back for Japanese-inspired cocktails as an aperitif or digestif. Impress your date by ordering sparkling sake.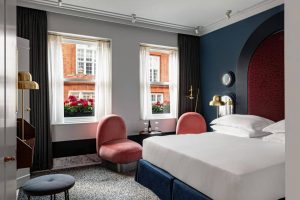 Are you ready to step up the ambience three or six months into the relationship?
Look no further than the charming and stylish Henrietta Hotel and Restaurant for a romantic staycation. The intimate 18-room hotel, with its art deco-inspired decor, opened its doors in 2017 and featured a restaurant run by Michelin-star chef Ollie Dabbous, serving up 5-star food with impeccable service.
Indulge in a seasonal menu with subtle French influences. Take advantage of this opportunity to test the waters and book your first night away together in Henrietta's Room 18, the best room in the house with impeccable style and incredible views of London.
After dinner, enjoy gin-based cocktails in the hotel's romantic bar before retiring to your room — no need to worry about transportation.
Everything is right there.
Celebrate your love with a special anniversary dinner at Frenchie Covent Garden. Indulge in French cuisine, with dishes like duck foie gras, modules, and pollock à la grenobloise.
Experience the epitome of style with Frenchie's chic interior and impeccable service. For a truly memorable occasion, try the 5-Course Tasting Menu, crafted by Chef Gregory Marchand and his team, featuring dishes from the à la carte menu and fresh, seasonal produce.
Enhance your meal with Frenchie's expert wine pairing, or finish with one of their seasonal cocktails.
Then, transport yourself to Paris for the night and make it an unforgettable anniversary.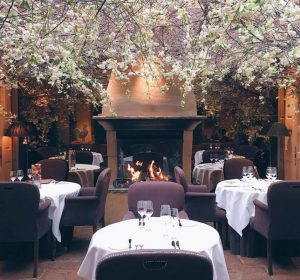 Repeatedly named London's most romantic restaurant, Clos Maggiore in Covent Garden is the perfect destination for a special occasion with your loved one.
The restaurant's Provencal and Tuscan-inspired ambience, complete with wood-panelled rooms, candlelight, and an apple blossom-filled conservatory, transports you to a romantic escape.
Indulge in some of the finest French cuisine in London, paired with an extensive wine list of over 2,500 selections from 18 countries. Make the night even more special by requesting a table in the conservatory, the perfect setting for a proposal.
Book 3 months in advance to secure your spot in this sought-after location.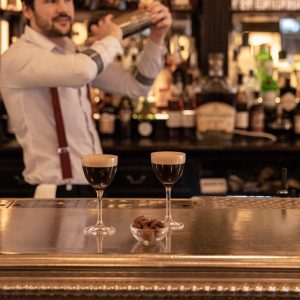 If you're looking to impress, Balthazar is a perfect choice.
With its impeccable service and delicious food, it's sure to leave a lasting impression.
The menu features a range of classic French brasserie and bistro dishes that satisfy any palate, making it the perfect spot for a weekend brunch, weekday lunch, or Monday night dinner.
So whether trying to impress your significant other's parents or simply looking for a particular occasion spot, Balthazar's unpretentious class and refined menu of crowd-pleasers will satisfy you.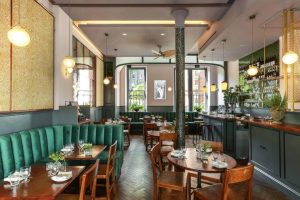 The Sunday Roast at Cora Pearl is perfect for impressing your significant other's friends.
The menu combines classic comfort food with a touch of elegance, making it relaxed and approachable. The inviting atmosphere and impeccable service will also leave a lasting impression on your guests.
With a wide range of delicious options, there's something for everyone at Cora Pearl's Sunday Roast.
Show your friends that you know how to take care of your own with this winning combination of great food and company.
Discover the romantic side of London with our Valentine's Evening Tour. Let this special tour set the mood as you are guided past notable landmarks while relaxing to romantic music. Stay comfortable with the provided blankets. Valentine's Evening Tour >